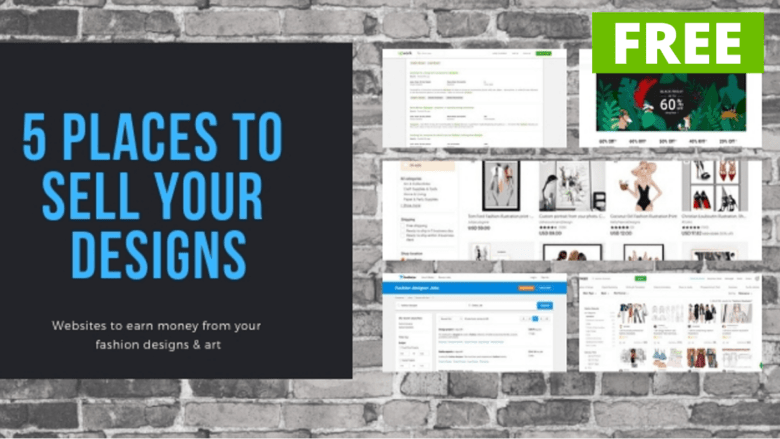 5 Places To Sell Your Fashion Designs
If you are a fashion designer searching for places to sell your fashion designs online, you've come to the right place. I have prepared for you a list of 5 wonderful websites where to make money out of your fashion design ideas.
But before you read the list, what is more, important is to make sure the quality of your artwork is worth buying. Why? Because unfortunately, many young talents don't have an objective judgment over their fashion designing skills. They are misled by family and friends who've convinced them they do an amazing job. Please don't believe the people around you! They love you and you will be always the best in their eyes. Also, they probably don't know what fashion industry really needs and would the industry would pay money for.
If you go to the market before you are ready, chances are that you won't make any sales and you will end up disappointed. Check if your designs are at a professional level and are worth buying before you upload your art anywhere.
So let's accept that your designs meet the industry standards. Here are the top 5 places where you can make money from your designs:
1. Etsy
Etsy is home for artists of many fields and fashion illustrators sell their work there as well. You can offer your already done artwork as a print or sell the originals for higher prices. A detailed and catchy description of what the customer will get is a must. Mind that you will not get the full profit of the price you set because the marketplace has a commission. Also, I'd advise you to research the competition before setting your prices. If you are just starting, don't put the same price as people who are obviously professionals, but at the same time, don't sell your art for pennies and have respect for yourself.
2. Fiverr
This is an alternative way of thinking about how to make money from your fashion design. Instead of selling your old fashion sketches, here you will be commissioned to draw someone else's design ideas instead. You will work for fashion designers and art directors, who have experience and know what they want. So this is not a place to learn. Fiverr is perfect for people who are confident in their art skills and who have developed a unique style. You can sell model illustrations or design flats. Mind that the industry is in constant need of quality flats. All clients need flats at one point of the time. Not all need model drawings.
3. Freelancer.com
You can search for job opportunities and send your offer to potential clients. They will choose the best offer out of all designers/illustrators that have to submit offers. They will consider how you communicate with them, your portfolio, your experience and of course the price that you are willing to do the service for.
4. Upwork.com
I used to accept commissions on this platform and I was pretty happy with how it functioned. Very similar to the above website, but clients also can invite you to propose an offer. They would communicate in private messages with you so that you can understand more about their needs.
I liked that because back then I felt intimidated to compete with more experienced professionals and being invited felt more safe and stress-free.
Again you need to have an impressive portfolio and descriptions about yourself.
5. Zazzle
At Zazzle, you have the chance to sell your design printed on various products such as mugs, t-shirts, bags, hats. To set up an account is free and easy and they provide you all the tools to preview how your design will look printed. You will not get the full profit though.
If you find yourself not being able to make any sales, the most probable and unpleasant reason would be that you're still not ready and your skills are still not professional. I Draw Fashion has hundreds of fashion drawing tutorials to help you improve your drawings for free. Also in I Draw Fashion Academy you will find online courses that will bring your drawing skills from beginner to pro in a couple of days and give you objective feedback on your skills from an industry professional.
If you're not making sales, don't get discouraged. Improve your knowledge and your skills instead and try again!