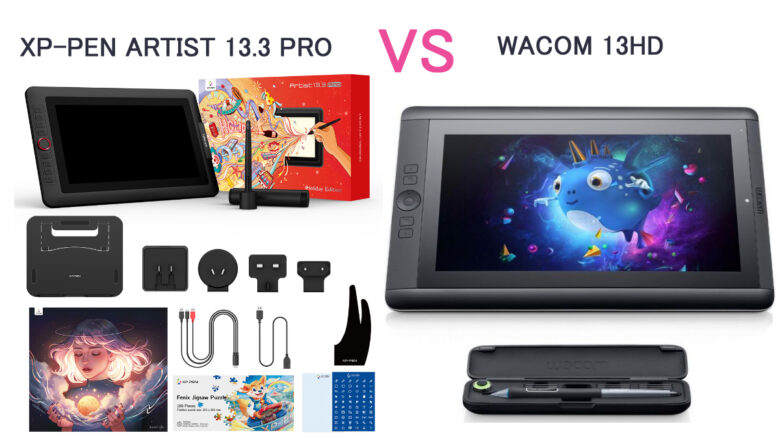 XP-Pen Tablet Review – Artist 13.3 Pro compared to a WACOM
In this article, I will share with you my 2-months experience drawing on an XP-PEN tablet. The tablet is Artist 13.3 PRO, and I have been using it to create digital fashion illustrations on my favorite app Clip Studio Paint.
If you haven't heard of P-PEN yet, they seem to be the new cool kid in the block. XP-PEN tablets offer fun experience, professional quality, and last but not least, the tablets come at extremely affordable prices. Naturally, I was curious to compare one of their bestselling devices – Artist 13.3 Pro to my old but gold Wacom Cintiq 13 HD, on which I've been drawing for the past 5+ years.
MY XP-PEN TABLET REVIEW:
UNPACKING.
When you buy a device, what you expect to find inside the box is the device itself. XP-PEN tablets think otherwise, and they have decided to turn the unpacking process into a five-stars experience. And I mean it! Here is a list of the surprises I found in my Artist 13.3 PRO"Holiday Package" box:
A Keyholder and pins
Cool little puzzle with XP-PEN mascot
Glove to wear during sketching
Napkin to clean the screen
Portable stand to put the tablet on
A Holder for the pen
Stickers to stick on the tablet buttons
Ten postcards with stunning illustration in various styles
Huge wall poster
Free drawing application! ( you need to register on their website to download it)
I spent 30 minutes unpacking and taking out of the box a gift after a gift. Compared to my iPad Air 4 and my old Wacom device, both of which ship you just the device itself, this experience was bliss! I wish all manufacturers included fun, useful addons.
CONNECTIVITY.
As expected, I found power adaptors for the electricity sockets in various countries – EU, US, AUS. That was kind and thoughtful to include in the box, but what I loved more was the possibility to get power directly from my laptop.
My ability to create sketches no longer depends on whether I find two power sockets around me– one for my laptop and one for my tablet.
I can now simply plug the tablet into my laptop and start drawing right away. It is no longer mission impossible to draw in a café or somewhere outside. All I need to do is charge my laptop battery to the max, and I'm ready to go.
I also want to say a word about the cable which was my biggest issue with my Wacom Cintiq 13 HD. For seven years I've replaced my cable twice and each one cost me around 70 USD. At some point, I got so afraid that it will break again that I started drawing on my desk only. And this was such torture for me. I prefer to draw on the ground, on the couch, and even in my bed. The cable of XP-PEN is very stable, doesn't disconnect when you move the device and has an extra extension given that you want it longer.
DISPLAY.
I feel confused when I read the specifications of a drawing screen/display and it says that the device shows X amount of colors. I have no idea what this means. I need to see it with my eyes to tell if I like the colors or no. That's the reason I decided to show you the difference I saw, instead of talking about it. Personally, I find the colors of XP-PEN brighter and richer, I like how my sketch looks better on the XP-PEN, but to be honest, I never disliked the colors of the Wacom. It used to be perfect before I had something to compare it to. On both devices my eyes feel perfectly fine after 4-5 hours of drawing.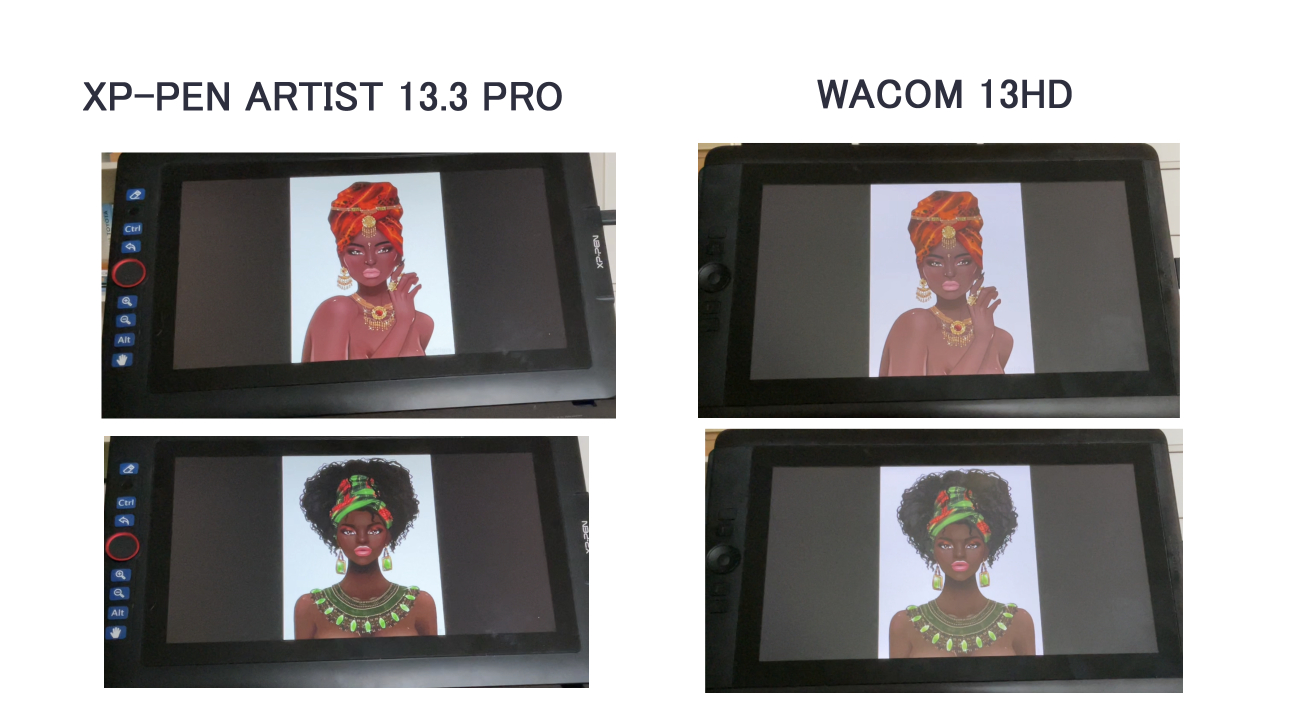 It might be not so easy to spot the differences from the photo. They are much more notable in life. Yet, you can see how the XP-PEN colors are brighter and the contrast is better. The details in both faces are more visible on the XP-PEN Artist 13.3 PRO. I have not retouched or edited the photo colors. Watch the video below to get a better idea:
SCREEN.
Lately, everyone is going crazy for a Paper-like feel to the screen. Artists want to have an experience as similar as possible to traditional drawing. XP-PEN has tried to meet these expectations by creating a screen that has a very subtle matte textured. It feels very nice to the hand, I'd would describe it as somehow velvety.
It does not feel like paper but isn't a slippery glass screen either. I would say it's somewhere in the middle.
I can imagine 90% of artists will adore it, however, I was never a huge fan of traditional drawing and I don't expect my digital experience to mimic it. I prefer the way a pen glides on a glass screen compared to the slight resistance a textured screen provides.
Not that I don't like the texture, I just happen to prefer the glass feel of my old Wacom.
PEN.
Initially, I was disappointed to find that there is no eraser on the back of the pen. It has two side buttons like my Wacom pen, but the eraser on the opposite side of the tip was missing. I had to use the stylus buttons instead and set one of them as an eraser. That left me feeling like I just lost a button.
To my surprise, just a few days of use later, I found that it is somehow faster to draw with the eraser on the side button. I never realized before how much time rotating the pen takes me. For me, the lack of an eraser turned quickly from something bad to something good that I appreciate.
What I couldn't get used to though, is the pen pressure. XP-PEN tablets fit artists who draw with a heavy hand, people who tend to press more when they sketch.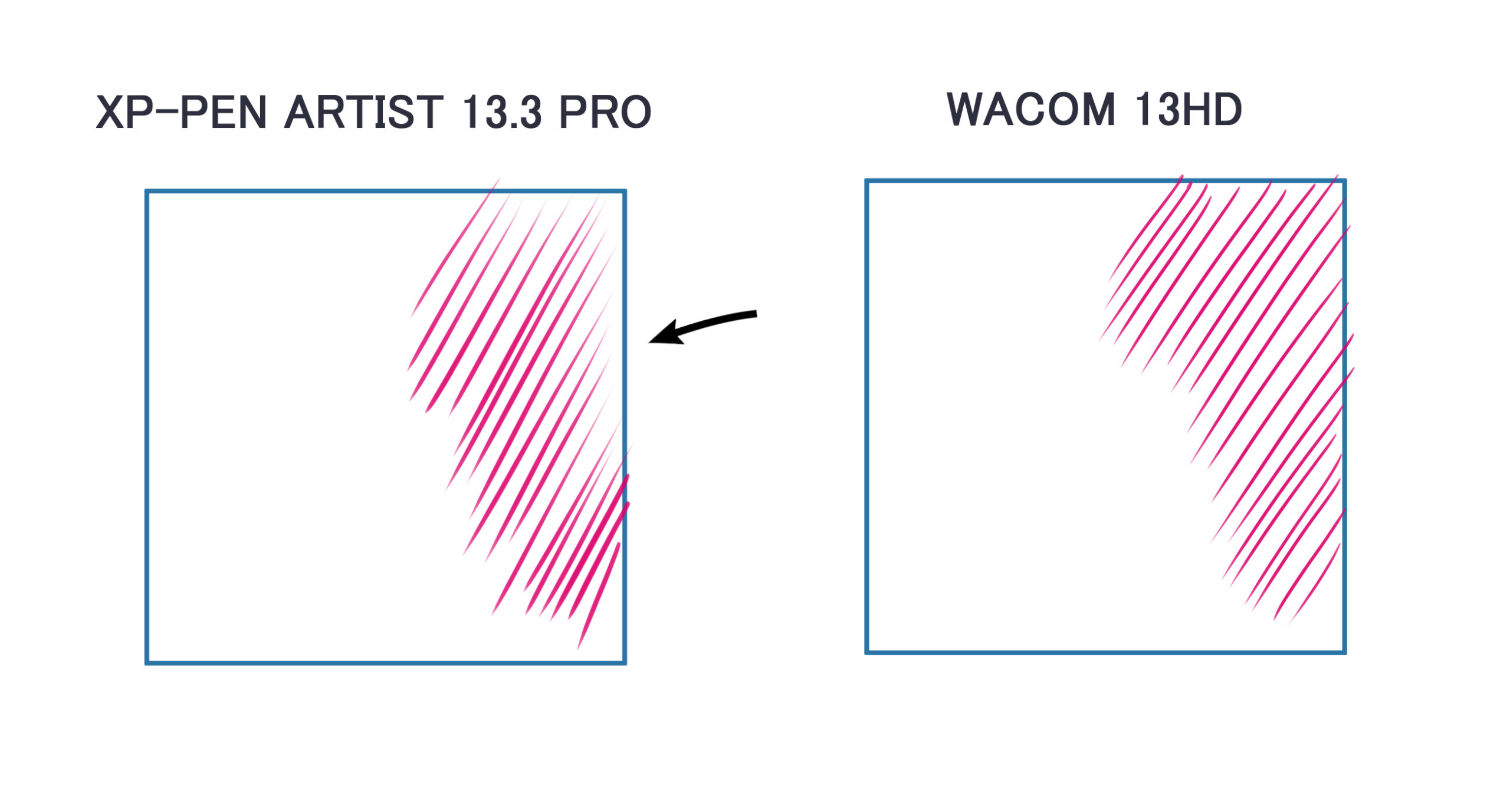 Sadly, I have a very light hand. I barely touch the screen when I draw, and perhaps this is why I never changed the tip of my Wacom pen for seven years, while other artists change them every 12 months or so.
Even though the XP-PEN stylus has double the pen pressure levels compared to my old Wacom, it was still unable to detect all of my lines. For example, when I was hatching fast, the first 10% of my lines would never show. I found this very frustrating. I had to redraw my lines with more pressure and slightly slower all the time.
I can almost hear my heavy-handed friends be will "I don't know what you're is talking about, it works just fine!". That might be true for you, but if you're a fellow artist who draws with a light touch, even the most sensitive settings of the XP-PEN tablet won't help you get 100% detection.
I never got such an issue with the old Wacom or my iPad, so I hope XP-PEN will soon come with a solution for light-handed artists too.
In the image below I show the difference. My intent for sides was to start the diagonal lines from the edge of the squares. I was doing exactly the same motion, at exactly the same speed. As you see, PX-PEN detects my pen later, resulting in lines that start not where I needed them to. The Wacom 13 HD side shows correctly what I was going for.
BUTTONS.
Now the buttons are something that made me fall in love! They are a million times better than Wacom, who are producing tablets with ZERO buttons lately.
My favorite thing about the XP-PEN tablet Artist 13.3 PRO is the wheel and how it rotates with ease when you touch it. I use the wheel to increase and decrease the size of my brush. Furthermore, you can assign more functions to this wheel like zooming in and out or anything you want it to do. There are four buttons on the top of the wheel and four buttons on the bottom of it. The device buttons were very responsive, they have a nice coating on the top, and are well distributed.
You can set them to any shortcut available in your drawing app. You can even stick one of the free stickers you get with the tablet.
SETTINGS.
The software that XP-PEN comes with is very intuitive and easy to use. You can set up the desired pen pressure, calibrate the screen, and set the buttons' functionality. That's okay, but Wacom did better in this department.
My old tablet allowed me to set separate shortcuts for different apps. Wacom also has virtual buttons. What virtual buttons mean is that you don't have many physical buttons on the side of the tablet, but once you press any of them, you suddenly get access to an enormous amount of buttons on your screen. You can set the up in a radial, horizontal or vertical fashion. You can pin them to the screen or have them show only when you need them.
If I never owned another tablet in the past, the XP-PEN settings would feel enough. But I am already used to my virtual buttons, and I miss them.
EFFICIENCY.
Drawing on a device that allows me to speed up my process is essential to me. I find drawing on Artist 13.3 PRO quite efficient mainly because of the ring that allowed me to change the brush size so fast. As I said before, switching from Brush to Eraser with the pen side button is something I disliked initially, but I realized soon that it is faster this way.
Overall, I find that if I had a more heavy hand, the XP-PEN would grant me better efficiency. Unfortunately, the fact that the device can't detect all my strokes and I have to remake some of them really slows me down and takes away from the pleasure of drawing.
PRICE.
The price of an XP-PEN is significantly more affordable compared to a Wacom device with almost identical specifications. I remember that seven years ago I spent a fortune on my Wacom – it cost me over $1000. Now I can purchase an XP-PEN Artist 13.3 PRO Holiday Edition for $349 and get a free set of COPIC markers and other great stuff in the box.
Wacom no longer offers my beloved Cintiq 13HD. They now sell a budget 13-inch display tablet for $399 called Wacom One. The colors of its display are nowhere near to XP-PEN, they are much duller, and there are no buttons available. They also sell a 16inch tablet with amazing screen, but the price tag is over $650. Check it here.
EXTRAS.
I already mentioned the Holiday edition of Artist 13.3 Pro is full of surprises and cool stuff in the box. But this is not all.
When you purchase your XP-PEN tablet, you get a free license for one of three available software: ArtRage 5, Open Canva, or Cartoon Animator 4 Pipeline. I ended up getting Open Canva, which usually retails for $60.
It is nice to have a drawing app included in the deal. I hope that XP-PEN will collaborate with Clip Studio Paint which is my favorite drawing app in the future!
The other free extra that you get is a variety of downloadable lineart from their website that you can color and reinvent.
IN CONCLUSION.
XP-PEN Artist 13.3 PRO offers a great experience for digital artists who are just starting and for those who work professionally. The screen has gorgeous colors, the device cable is stable and allows you to move around, the screen feels almost like velvet, and is the price is affordable.
The only negative to this device is that if you're an artist who barely touches the surface when you draw, the tablet won't detect the beginning of your lines at all.
Investing in this tablet is definitely worth it, and you will enjoy a professional tool to create your illustrations with.
You can get it from the official website of XP-PEN here.
Good luck and happy drawing!
---
CC-BY-NC 4.0. Share and re-use for non-commercial purposes only.
Always give attribution and a link to I Draw Fashion.
---